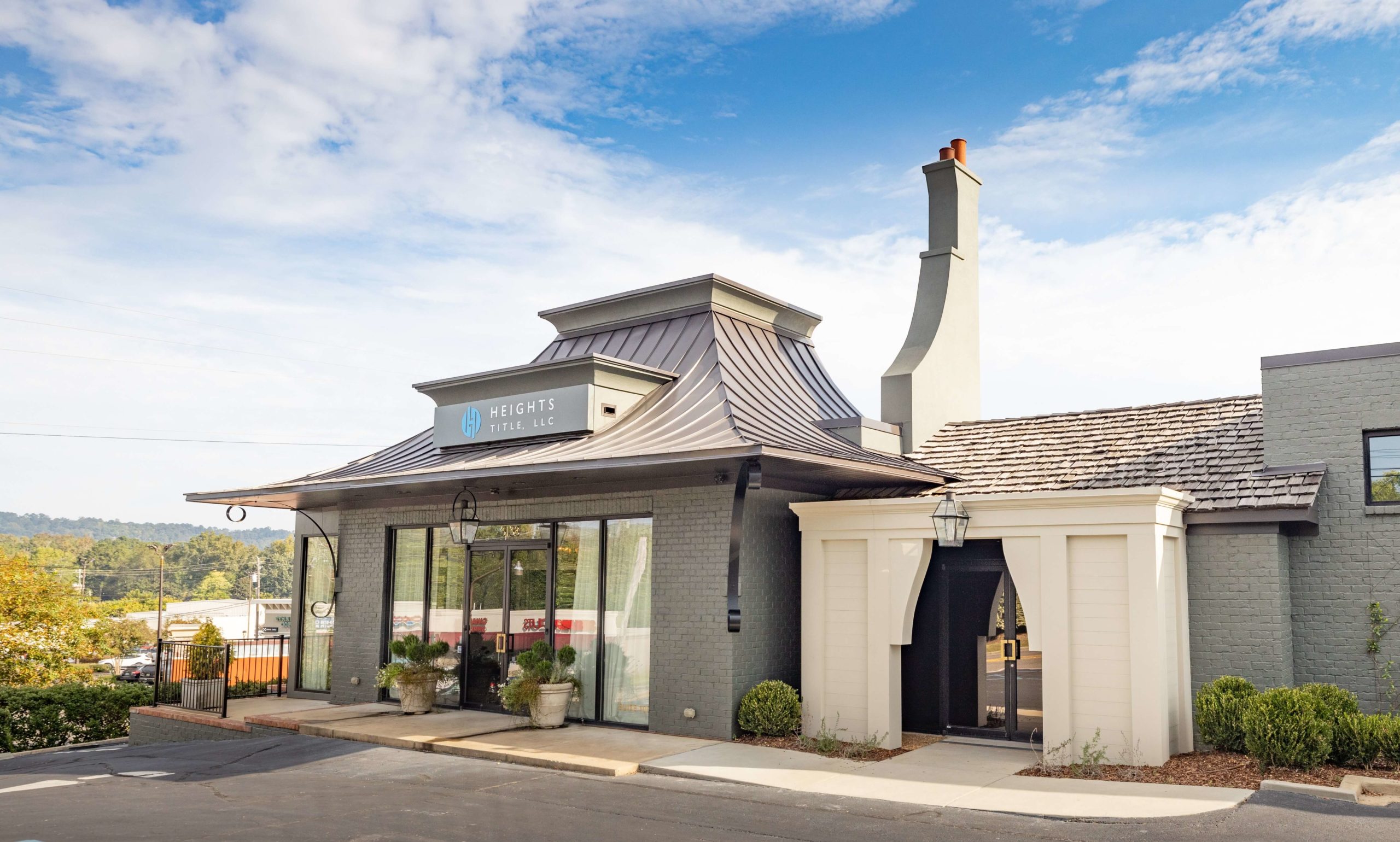 Even if this is your first time in a real estate transaction, you may have heard how extensive the closing process can be. 
Buying a home is rarely an especially straightforward process. There are a lot of players involved, along with a lot of rules and regulations to account for. Ultimately, it's worth your time and attention to make sure things are done right. 
But, no matter how thorough you are, you won't be able to complete your closing without the help of specialists and experts – for practical and legal reasons. Not least among these experts will be your title company. If you're not familiar, the title company conducts your title search, closes escrows, and takes care of the finer details (of which there are many) involved in your transaction. At Heights Title of Cahaba Heights, Alabama we've built our reputation on quality work and our services keep you legally and financially protected in your transaction. 
No matter if you're buying, selling, refinancing, or even seeking commercial real estate, Heights Title is here to help. Let us be your Cahaba Heights Title Company.
How to Choose a Title Company
While buying a home isn't simple, an experienced team behind you can go a long way to simplifying it for you. The first step to buying property in Cahaba Heights, Alabama is finding a realtor you trust. A good realtor will get your foot in the door with their trusted contacts. When selecting a realtor, choose one who knows the area well. They should be able to put you in touch with a good local title company, home inspector, and closing attorney if needed. Your realtor will know more than the local housing market, they'll know the local industry as a whole. Take advantage of their existing connections.
Our Process At Heights Title
With the complexity of real estate transactions, you'd be forgiven for forgetting who does what and why. Title companies such as Heights Title in Cahaba Heights, Alabama perform title searches, offer title insurance policies, and open or close escrow accounts as necessary to complete transactions. 
Heights Title performs a title search by reviewing public records that show the history of a property's ownership. This process ensures the title is legitimate and doesn't have any surprising debt burdens or limitations that might affect your ability to take unqualified ownership of the property. The kinds of things Heights Title looks for include: 
Outstanding liens 

Easement issues 

Prohibitions on development

Ownership issues 
It's important you know ahead of time if these issues will affect your title and ownership. 
Sometimes, you'll want a survey of your prospective property. In cases where one needs to be performed, we'll let you know and arrange for appropriate action. These are done in cases where there's ambiguity about the property's margins because of poor records or suspected fraud. 
Once the title search and survey are completed, we'll provide you with homeowner's title insurance. Your policy should entitle you to protections and guarantees if something is discovered to be amiss with your title down the line. Similarly, we provide title insurance to your loan lender. This policy will likewise protect their interest in the property for the duration of your loan repayment.
Our Responsibility & Promise to You
It's entirely possible a home purchase will be the largest financial decision in your lifetime. Selling a home is similarly high stakes. Because buying or selling property is such an enormous decision, Heights Title takes pride in offering guidance in what could otherwise be a very stressful time. We understand what these moments mean to our clients, and we're here to help. 
If you're buying, selling, or refinancing, choose Heights Title of Cahaba Heights, AL for your title services and closing needs. 
How Title Companies are Involved in Selling Your Home
If you're thinking about selling your home in Cahaba Heights, Alabama, we aim to make the process as straightforward as it can be. 
Before you list your home though, let's consider what you can do to boost your home's sale value. 
First things first, it's time to get around to those long-put-off repairs. Even minor and cosmetic repairs can go a long way to boosting the perceived value of your home to buyers. After you've arranged for those, take the time to tidy up and organize as best you can. The neater your home shows the better the impression on home buyers. If you can manage, organize a deep cleaning of your home. Be thorough, and don't be afraid to pay for special services if you'll make it back later. 
After you've got a prospective buyer, it'll likely be them who chooses the title company. If you're the seller, you'll have to worry about a little bit less on that end than the buyer. But, that doesn't mean you shouldn't pay attention to your expenses as well
You will have closing costs, but these probably won't come out of pocket. More likely, they'll be taken out of your sale proceeds. Nonetheless, budget for them and be aware. Far from an exhaustive list, look for: 
Real Property Fees

Taxes

Termite Bond Fees

General "Seller Paid" Fees (as designated)

Any associated HOA dues
Consult your agent to determine your particular expenses.
How Title Companies Are Involved in Buying A Home
Once you've found a home you love in Cahaba Heights, Alabama, here's what we'll do to help move your family in. We'll: 
Perform a title search to ensure there aren't ownership issues

Provide title insurance policies for you and your lender, and 

Handle closing, along with closing

escrow accounts

. 
Let us take care of the details at Heights Title so you can focus on your new Cahaba Heights home.
Title Insurance and Refinancing
If you're refinancing, you'll have a different range of needs. This is by far the most frequently asked question for the title company:
Q:
Do refinancers need new title insurance? 
A:
Yes and no.
The title insurance policy for you as the homeowner will serve until you no longer own the home, so you won't need a new policy for yourself. But, the lender's policy only persists as long as they have their particular stake in the home. If you refinance with new terms or another institution, you'll need another lender's policy.
How Long Does the Process Take?
No doubt you're eager to get into your new home or close on your sale as soon as possible, but remember that careful work and due diligence are needed at every stage of the transaction. A title search will take a little time. Usually, you can expect an older house to take longer and a newer house to take less. That's because an older house has a longer history to carefully review. Generally, the title search shouldn't take longer than a couple of weeks in any case though.
Reviews
At Heights Title, we work hard to provide our clients in Cahaba Heights, Alabama, and elsewhere with the best service we can. Listen to what our satisfied clients have to say: 
"Heights Title is ALWAYS part of my A-team because they have a true servant's heart and will do everything possible to avoid surprises for my clients and deliver things in an accurate and timely manner. I know my clients are in GREAT hands when I use Heights Title for title needs and Daniel Odrezin for the closing attorney. Thank you guys for being AMAZING!!!"
— Rachel Mooney
Join The Heights Title Team!

Looking for a rewarding career in the title industry? Heights Title is always searching for top talent to join our team. If you have great attention to detail, and a passion for helping people we would love to hear from you! Give us a call today at 205-352-2344 or contact us online.
This material is provided as a courtesy and for educational purposes only. Please consult your title professional for specific information regarding your situation.

Heights Title — Your Cahaba Heights, Alabama Title Company
Give us a call, send us an email or fill out the form below. We are waiting to hear from you, so reach out to us today!
3138 Cahaba Heights Rd 100B
Birmingham, AL 35243